Piano album

Three tracks from a piano album project:


Gilbert, a classically trained pianist, attended Dartington college of Arts, Goldsmith's University, studied composition at Trinity College of Music and has completed a Masters at Westminster University. Having achieved success with Dream Academy (in 1998, Gilbert was nominated for an Ivor Novello award for his part in writing Life In a Northern Town as featured by Dario G in the world-wide hit Sunchyme), Gilbert has recorded three albums and ten singles, and written music for film and television. Here are some examples of his more chilled direction:

Gilbert currently lives in Totnes and is often in London and Kraków, Poland recording. He is completing a Phd in Film Studies and as extra-curricular activity studies Nichiren Buddhism. He has released a number of tracks through Blanco Y Negro/Warner Bros., of which England's Dreaming and Call My Name are especially memorable.

For information about the activities of Dream Academy members including Gilbert Gabriel. Includes interviews, discography and more: Dream Academy Information Site


Lotus album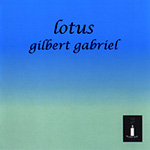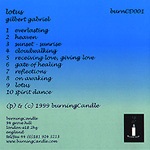 "out of mud a lotus flower grows"

This saying, derived from the tenets of Nichiren Buddhism and meaning that we can turn adversity to our benefit with the right attitude, has provided the basis for the music contained on this album. This music has been composed both to lift the heart and spirit of the listener by creating a sense of inner harmony and calm and, on another level, to enhance the benefit of such healing therapies as massage, aromatherapy and reflexology.

Lotus was composed, created and recorded entirely by Gilbert Gabriel, and features the ethereal vocals of Valerie Antell on "Heaven".

All tracks by Gilbert Gabriel are licensed under a Creative Commons Attribution-Non-Commercial-No Derivative Works 2.5 China License.
Permissions beyond the scope of this license may be available at http://www.burningcandle.com/music.html.